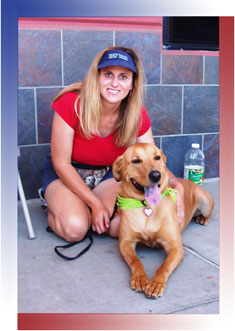 Patty and Malcolm
All Star Dog Training offers basic to advanced dog obedience classes as well as agility classes. We work with all breeds and all issues, including canine aggression cases. We use positive-based and reward-based training methods at All Star Dog Training. We also emphasize benevolent leadership. We do not use prong collars, choke collars or shock collars. At All Star Dog Training, it is our hope that training your dog will be a pleasant experience and fun for both you and your dog.
In addition to actual dog training techniques, we cover such subjects as nutrition, equipment, leadership, canine safety hazards, how spaying and neutering affects certain canine behaviors, housebreaking, jumping, digging, excessive barking, etc.
The vast majority of the time we are actually not training your dog for you. We are teaching you, the human, how to train your dog and how to build a relationship with your dog. Class instructors will occasionally handle your dog when a dog is needed for a demonstration or when a client is having difficulty accomplishing a certain task. And we can't think of a client yet who hasn't beamed with pride when their dog has taken his/her turn to shine in front of the class!