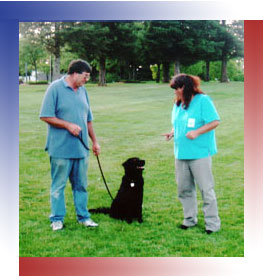 Leah with Boo and His Dad
The All Star Dog Training team consists of Owner/Head Trainer, Leah Ruiz, as well as several assistant and apprentice trainers, including Melissa, Gayle, Lisa, Patty and Brandy.
Leah Ruiz has an extensive knowledge and understanding of canine behavior. These are skills which are an absolute necessity for any competent and successful dog trainer.
Leah has always had a love for and a connection with animals. Since childhood, there has never been any question that Leah's life work would revolve around and evolve into working with animals. She has shared her home and her life over the years with horses, dogs, wolf hybrids, cats, several types of birds, snakes, pet rats, hamsters, guinea pigs, fish, frogs, turtles, etc.
Leah's first animal-related employment was when she was a teenager and worked in a pet store. After that, Leah trained horses for five years in Tacoma, Washington and then volunteered with Wildlife Care in Sacramento for two years. Leah also has experience working at doggie daycare and dog kennel facilities locally and has also attended several continuing education behavior seminars.
Once Leah decided to become a dog trainer, she was insistent on obtaining as much canine knowledge and dog handling skills as was possible in order to be the best trainer that she could be. Leah apprenticed with an established successful local dog trainer for an entire four-year period prior to becoming a class instructor in her own right. After working as a full-fledged trainer for three additional years, Leah then founded All Star Dog Training in the year 2000.